Apparently the USS Indianapolis has been found 18,000 feet beneath the Pacific Ocean through the efforts and resources of Paul Allen.
http://www.cnn.com/2...ound/index.html
(CNN)It's been 72 years since the USS Indianapolis went missing after a Japanese submarine torpedoed it in the final days of World War II.
A team of civilian researchers led by Microsoft co-founder Paul Allen discovered the cruiser's wreckage Friday on the floor of the Pacific Ocean, 18,000 feet below the surface. The discovery brings a measure of closure to one of most tragic maritime disasters in US naval history.
"To be able to honor the brave men of the USS Indianapolis and their families through the discovery of a ship that played such a significant role in ending World War II is truly humbling," Allen said.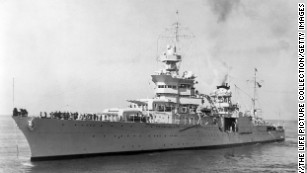 The heavy cruiser USS Indianapolis.
"As Americans, we all owe a debt of gratitude to the crew for their courage, persistence and sacrifice in the face of horrendous circumstances. While our search for the rest of the wreckage will continue, I hope everyone connected to this historic ship will feel some measure of closure at this discovery so long in coming."
The Indianapolis sank in 12 minutes, making it impossible for it to send a distress signal or deploy life-saving equipment. Before the attack, on July 30, 1945, it had just completed a secret mission delivering components of the atomic bomb used in Hiroshima that brought an end to the war in the Pacific, according to the Naval History and Heritage Command in Washington.
Most of the ship's 1,196 sailors and Marines survived the sinking only to succumb to exposure, dehydration, drowning and 
shark attacks
. Only 316 survived, according to the 
US Navy
. Of the survivors, 22 are alive today.
Edited by DKTanker, 20 August 2017 - 1054 AM.