And the callsign wasn't Ghostrider but I've forgotten what it was and probably shouldn't remember even if I could.
There we were, minding our own business conducting a counter-narcotics patrol somewhere in the Caribbean when we were called on an HF air frequency by an E-2 requesting a flyby. How polite! The RAF by contrast don't usually bother with manners, they just come screaming in fast and low to let you know they are there.
They gave us plenty of time to set up cameras but my one snatched pic was rather shoddy, nevertheless reproduced here: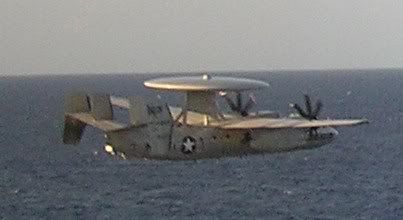 Not quite at wavetop height but they were noticeably below bridge level.
Edited by Anixtu, 04 December 2008 - 2035 PM.